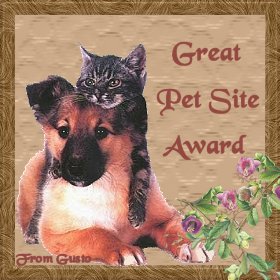 We have visited your site and had a great time looking around and reading all the great information and services you provide. Gusto and I have determind your site deserves his
Great Pet Site award. - 02/07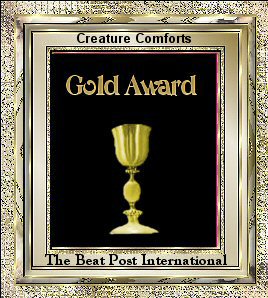 Congratulations!
Your site more than qualified to win my award, the Gold Award. Hey, most sites don't even come close to winning my award. But yours was a hands down winner. - 02/07

Congratulations!
You Won The I-Love-Dogs.com 'Good Dog' Site Award! You should be very proud! Your site is awesome!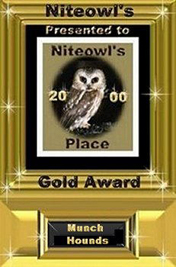 Nightowl's 'Gold Award' was one of our first awards we recieved with our website under our first business name: Munch Hounds, Inc.
Niteowl - 2000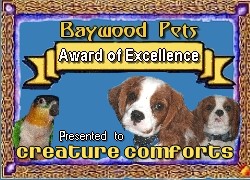 Wow you have a big family! We send hugs and fusses to Belle, Bailey, Kaela, Dena, Storm, Kirby, Luna, Lilly, Baby, Baxter, and the rest of the gang! Your site and you are more than deserving of our excellence award. We very much enjoyed looking around your site, and reading about your little babies, you both have huge hearts and great humour ;) It was our pleasure to visit you and we will be popping back again! - 02/07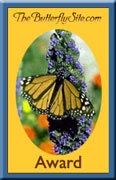 We have visited your website and really appreciate your helping make the Web a more interesting, useful and attractive place to visit. CONGRATULATIONS, we are pleased to give you the link to receive our award!
The Butterfly Site - 02/07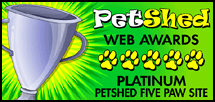 Congratulations!
We have reviewed your site and determined that it is outstanding and qualifies for an award. We have also created an online awards certificate page for you. This serves as a proof that you have received the Pet Shed award.
PetShed.Com - 03/06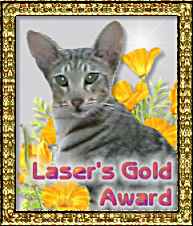 Congratulations on a job well done!
We have enjoyed our visit and will definately
be coming back again.
Warm regards -
Anne and the Xarifa Kitty Kat Klan
XarifaCats.com - 2006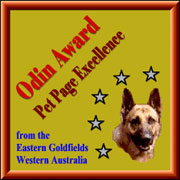 2000